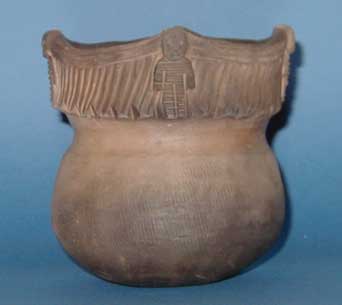 JAR
Peter B. Jones, Onondaga, Iroquois

size:

5w x 5h

circa:

2002

acquired:

9/5/02

where:

from the Artist

notes:

Commissioned - We were looking for a very traditional Iroquois piece and asked Peter to make us a primitive looking pot that would reflect the ancient style. Nice work! As tradition goes, the collar of the piece (being more sharp and rigid) represents the masculine and the smooth, rounded bowl represents the feminine. The human effigy reflects a more developed era in their design. At first, there were animal figurines on the collar followed by human faces....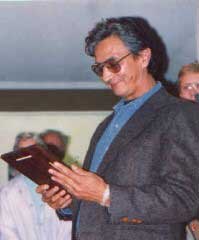 Peter (born 1947) is a skilled potter and sculptor from the Beaver Clan, Onondaga Nation. He studied under Hopi artist Otellie Loloma while attending the Institute of American Indian Art, NM and his work is in the collections of museums like the Everson Museum, Syracuse, NY, the Heard Museum, Phoenix, AZ, and the Museum of Anthropology, Frankfurt, Germany.
"Excellence in Iroquois Art" award in 1990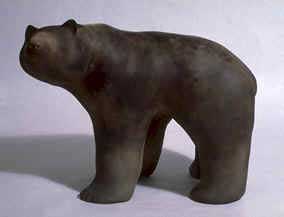 Peter wrote that the "idea of 'Indian' humor is somewhat akin to 'Indian' art. What is it? When approached to do a piece for this show, all I could think of were stories and jokes, incidents and happenings, the 'you-had-to-be-there' type of humor. Nothing that could easily be translated from oral to three-dimensional. Native Americans have always had the ability to laugh at themselves, especially at the most inopportune or inappropriate times. . . . Humor has been our vent in bad times." Peter uses stoneware to create works that speak to the heart of what he sees as "Indian Humor."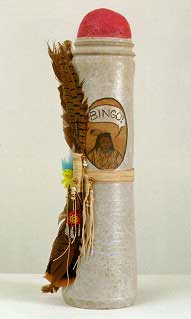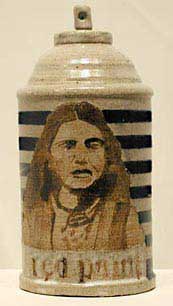 Bingo Dauber Fetish Red Paint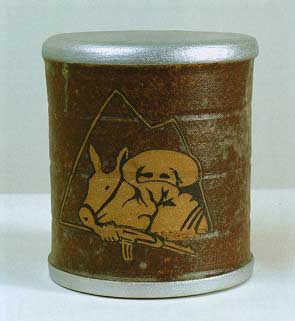 "Buenos Dias Juan Valdez reflects how a coffee can would look if there really were truth in advertising."