Jennifer M. Stevens
Singing Clay Studio
Contemporary Iroquois Pottery & Paintings
Green Bay, WI 54304
jennifermstevens72@yahoo.com
~BIO~
Jennifer M. Stevens is the youngest daughter of Ernest L. Stevens Sr. (Oneida) and the late Patricia A. Stevens (Lakota/French/German/Irish). She was born in Alexandria, VA., was raised primarily on the Oneida Reservation in De Pere, WI, and a part of the Wolf Clan.
Jennifer graduated from West De Pere High School in 1991 and will be receiving a B. A. in Fine Arts from St. Norbert College, De Pere, WI. Prior to going to school for art, Jennifer has studied in college and privately as a classically trained vocalist for 15 years; Jennifer, a Dramatic Coloratura- soprano continues to enjoy singing.
While growing up Jennifer had the opportunity to live in Arizona and New Mexico where she was exposed to Southwestern art and collected pottery shards with her Mother. She never knew her own tribe made pottery. To her surprise, Jennifer was introduced to the art of Iroquois pottery by Oneida potter, Rose Kerstetter, in 1999. Since Jennifer's tutelage with Rose Kerstetter, in 2002, Jennifer does workshops, demonstrations for Art Street, Green Bay, WI, Indian Summer, Milwaukee, WI, and enjoying Artist in Residencies for 3rd-8th grade students throughout WI.
Jennifer is hand-building (coil method) Iroquois pottery with stoneware clay, while incising the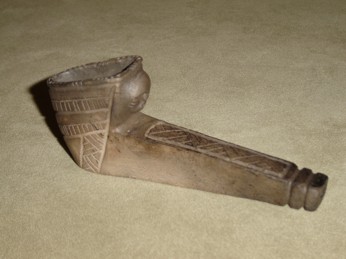 Iroquois designs inspired by her ancestral pottery with traditional (paddle/anvil) and modern day tools. Pottery is kiln fired and Jennifer uses a stain-glaze wash to bring out the etchings in the clay. Recently Jennifer participated in an Advanced Iroquois Pottery workshop with Onondaga/Seneca potter, Pete Jones and learned how to prepare her own clay and fire her pottery in fire pits.
Although Jennifer is inspired by pre-historic Oneida-Iroquois pottery, and makes traditional style pots, she strives to be unique. Jennifer also experiments with a new style of her own, exploring her Iroquoian/Lakota culture to create a contemporary style which is displayed in her pottery, sculpture, and paintings with watercolor, texture medium, and oil paint.
To Jennifer, making pottery is just as much as spiritual and emotional, as it is exploring, learning, and pushing her limits. Knowing that her ancestors once made these pots with their hands and leaving impressions of their souls in their designs is rewarding and beautiful. Jennifer feels a strong connection with her ancestors which helps her get connected with herself.
Art and music is an integral part of Jennifer M. Stevens life and she is very appreciative of the Creator providing her the ability to tap into her creative expression in various mediums of the arts.
---
~Education~
1986-1991 Craft Ceramics

1991West De Pere Highschool

1999 Workshop w/ Rose Kerstetter Oneida, WI

2002 Apprenticeship w/ Rose Kerstetter Wisconsin Arts Board Apprenticeship Program Oneida, WI

2003-2005 St. Norbert College Ceramics & Raku w/ Donald Taylor, painting w/ James Cagle and Marilyn Stasiak

1990-2005 UWGB, SNC, & KU; Studied Voice w/ 15 years of private study.

2006 Advanced Pottery Workshop w/ Pete Jones
~Experience~
Featured Artist:
2003 Oneida Museum, Oneida, WI

2004 Mitchell Museum of American Indians Permanent Collection Evanston, IL

2005 Clay Hound-Native American Pottery Website http://www.clayhound.us/gallery/jstevens.htm
Commissioned Art:

2006 First Nations Golf Association Designed & Sculpted Trophies
Displayed:
Artist in Residencies: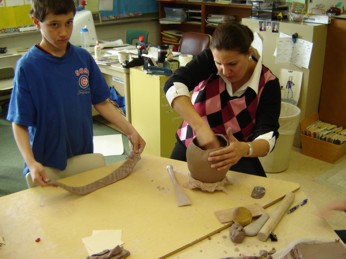 2005 St. Mathews Elementary School Green Bay, WI

2006 Cleveland Elementary School Cleveland, WI

2007 Tank Elementary School Green Bay, WI

2007 King Elementary School Green Bay, WI


2007 Rock Ledge Elementary School Seymour, WI
Exhibitions:
2003 & 2005 Native American Experience Exhibition Appleton Art Center Appleton, WI

2004 'A Matriarchal Roots Memorial Exhibit Cultural Heritage Center Oneida, WI

Demonstrations:

2003 & 2005 Oneida Museum Cultural Festival Oneida, WI

2003-2006 Art Street Green Bay, WI

2004-2006 Indian Summer Milwaukee, WI

2006 Lahnetaha wi International Sculpture Symposium Oneida, WI
Workshop: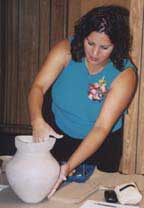 2003 Oneida Recreation Oneida, WI

2007 Oneida Nation Arts Program Oneida, WI
Awards:
2006 "Dollars for Arts Program" Award, Wisconsin Arts Board and Oneida Nation Arts Program Oneida, WI
2007
Jennifer M. Stevens delivered a PowerPoint presentation and pottery display about the history of Iroquois Pottery and an exhibit in Oneida, WI of her students work. Both Events are open to the public-Dates and location will be announced. Events made possible by the DAP Award.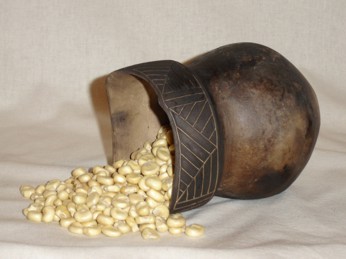 ---
You can purchase Iroquois pottery through Bear Paw Keepsakes in Oneida:
http://www.bearpawartgallery.com/gallery/?cat=19