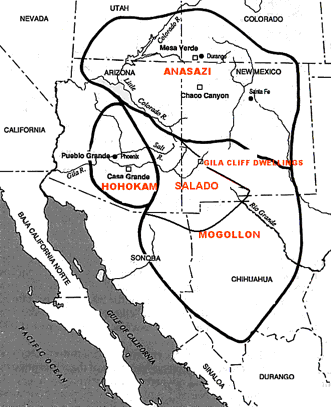 The Salado are believed to have been a group of wayfaring Anasazi who experienced moderate Mogollon influence and migrated into the Tonto Basin/Roosevelt Lake/Globe, Arizona region.
Inhabiting the Tonto Basin in central Arizona for the relatively short period between A.D. 1150 and around A.D. 1450, the Salado culture was named for the Salt River (Rio Salado in Spanish) that was central to their way of life. Considered a minor culture by archeologists, the Salado culture's origins are still being debated.
The first wave of Anasazi influence was accompanied by the adaptation of certain northern black-on-white pottery types, such as Tularosa Black-on-White. The new type, Roosevelt Black-on- White, has all of the decorative elements of the Tularosa style, but differs in physical characteristics. The second wave saw the dissemination of polychrome pottery types such as Wingate and St. Johns. These evolved locally into Gila, Tonto and Pinto polychromes. These latter pottery types fall into the category of Roosevelt Red Ware.